We highlight events from across UBC and the Faculty of Medicine to appeal to a broad range of members in our community. Please contact us if you would like to see events added.
---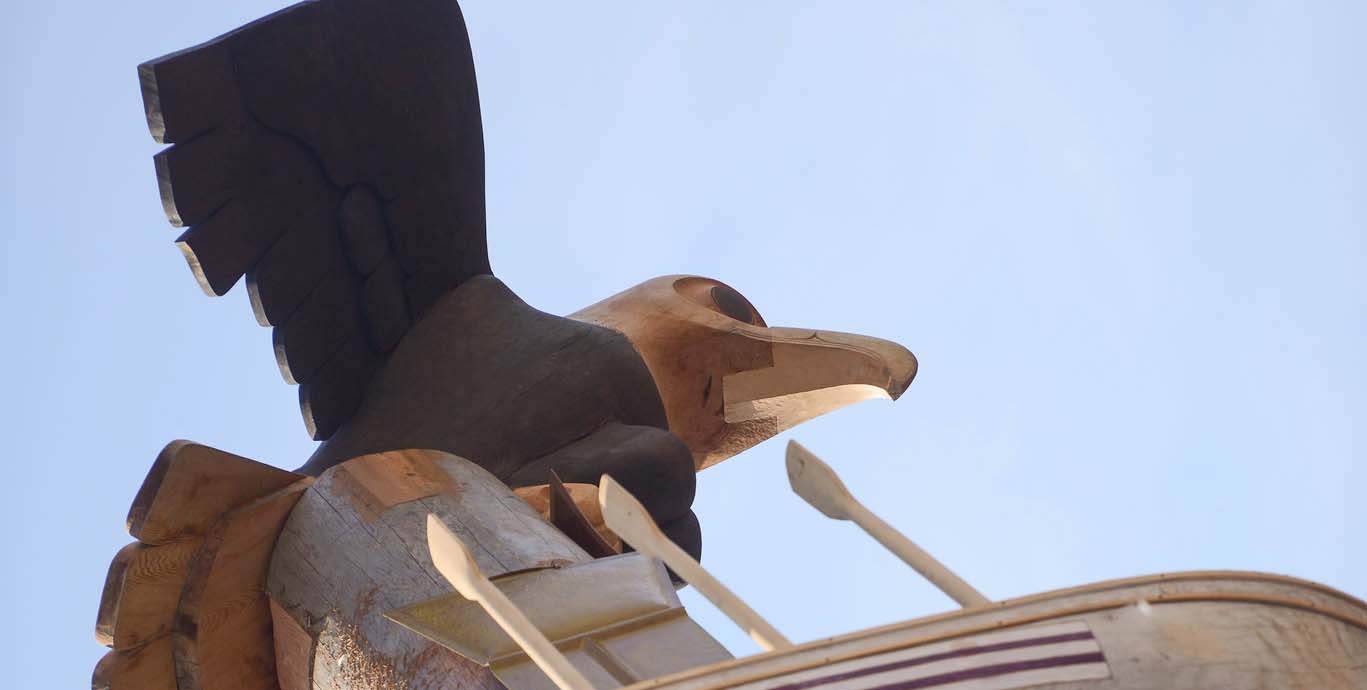 Reconciliation Pole, 7idansuu (Edenshaw), James Hart, Haida Hereditary Chief and Master Carver. Photo Credit: Paul H. Joseph / UBC Brand & Marketing
It Starts With Us: Truth Telling
September 28, 2021 | 12:00 – 1:30 p.m.
On behalf of Dr. Dermot Kelleher, Dean, Faculty of Medicine and Vice-President of Health, UBC, Dr. Mike Allard, Vice-Dean, Health Engagement, and the Office of Respectful Environments, Equity, Diversity & Inclusion (REDI), please join us for the next It Starts With Us virtual event to commemorate Orange Shirt Day and the National Day for Truth and Reconciliation.
Topic: Truth Telling: A first step toward reconciliation
What will I learn? You will learn about the historical and current context of the National Day for Truth and Reconciliation, and the significance of Orange Shirt Day
Learn more and join the event here
---
Safe and Respectful First Nations, Inuit and Métis Maternal and Newborn Care
September 17, 2021 | 12:00 – 1:00 p.m. EDT
During pregnancy, labour and delivery many First Nations, Inuit and Métis people experience significant barriers to accessing care thus leading to unacceptable health disparities including increased risk for poor maternal and newborn health outcomes in Canada. There are opportunities to improve maternal and infant health outcomes.
Join this webinar with the National Aboriginal Council of Midwives and Patients for Patient Safety Canada, a patient-led program of Healthcare Excellence Canada, in honour of World Patient Safety Day. The goals of this virtual discussion are to build awareness and understanding of the experiences of First Nations, Inuit and Métis, and to discuss ways to provide safer maternal and newborn care.
Register here
---
"Picking up the Pieces: The Making of the Witness Blanket" Film Screening and Conversation
September 21, 2021 | 4:30 – 7:00 p.m.
Inspired to know more about his father's time at residential school, Kwagiulth master carver and artist Carey Newman created the Witness Blanket – a wall-sized monument that commemorates the experiences of residential Survivors and their families, as well as the children who didn't make it home. The Witness Blanket is constructed from hundreds of everyday items collected from residential schools, churches, government buildings and cultural structures across Canada. Each object has a story to tell, each Survivor has something to say. Narrated by the artist, this 90-minute film weaves together those stories with Carey's personal journey, examining how art can open our hearts to the pain of truth and the beauty of resiliency.
The film screening will be preceded by a Musqueam welcome and opening remarks by Chief Dr. Robert Joseph and IRSHDC Academic Director Mary Ellen Turpel-Lafond (Aki-Kwe). Following the film, a live Q&A with Carey and his sisters Ellen and Marion will be moderated by Dr. Turpel-Lafond. Audience members will be invited to submit questions via chat.
Register here
---
Welcoming Students Back to Campus: Supporting Classroom Climate with UBC Indigenous Resources
September 21, 2021 | 10:00 a.m. – 12:00 p.m.
The CTLT Indigenous Initiatives team will be hosting this session to welcome everyone back for the upcoming academic year. Please join them to learn about UBC-specific Indigenous resources that support students and classroom climate. Participants will have the opportunity to network with other members of the UBC teaching and learning community who are interested in learning more about classroom climate and engaging with Indigenous content in a post-secondary environment. The CTLT Indigenous Initiatives team will be sharing place-based resources that guide their programs and services.
Register here
---
CTLT Indigenous Initiatives Virtual Coffee Drop-in
September 23, 2021 | 1:00 – 2:00 p.m.
Do you have questions about how to thoughtfully integrate Indigenous content and representation into your course work? Curious about how to offer meaningful land acknowledgements in online meetings or events at UBC? Indigenous Initiatives' Virtual Coffee Drop-ins are great place to explore these topics, connect with others on the same learning path, or just get to know the CTLT Indigenous Initiatives team.
Register here
---
"Returning Home and Pathways to Reconciliation" Film screening and Conversation
September 27, 2021 | 11:00 a.m. – 1:00 p.m.
"Returning Home" weaves the story of two parallel narratives. The first is the story of Phyllis Webstad, a Survivor of the former St. Joseph's Mission residential school in Williams Lake and originator of Orange Shirt Day. The second is the story of the steady decline of wild pacific salmon. This 45 minute film is the first feature length documentary produced by Canadian Geographic. Directed by award-winning filmmaker Sean Stiller, it is set to tour the film festival circuit this fall, beginning with the Vancouver Film Festival on October 3, 2021.
The film is being showcased in advance, in a special presentation that will include a Musqueam welcome and opening remarks by Dr. Jo-ann Archibald and IRSHDC Academic Director Mary Ellen Turpel-Lafond-Lafond (Aki-Kwe), as well as a post-screening conversation and Q&A with Phyllis, moderated by Dr. Turpel-Lafond-Lafond.
Register here
---
Book Launch – Nerve: Lessons On Leadership From Two Women Who Went First
September 29, 2021 | 4:30 – 6:00 p.m.
Join Dr. Martha Piper and Dr. Indira Samarasekera, in-person and online, in celebrating the publication of their book Nerve: Lessons on Leadership from Two Women Who Went First. In this event, Dr. Piper (former President of UBC) and Dr. Samarasekera (former President of the University of Alberta) will provide their candid and insightful perspectives on the dilemmas and opportunities women confront as they take on leadership positions, and offer guidance for leaders of every age and at every stage of their career. Learn more about the event here
This event is sponsored by the Office of the Provost, and Vice-President, Academic, UBC Vancouver. Connected with the theme of supporting junior faculty and cultivating leadership pathways, this event is also the first session of the second cohort of Maximizing Impact – a program to support junior faculty members at UBC.
Register here
---
ISP Implementation Toolkit Workshop
October 4, 2021 | 11:00 a.m. – 12:00 p.m.
This workshop will walk participants through the Indigenous Strategic Plan Implementation Toolkit. By the end of the session, participants will have a firm understanding of the objectives of the ISP Toolkit, including the ISP Self-Assessment Tool and the ISP Intent to Action Tool, and how participants can then take these tools and implement them in their own Faculty, department or unit to begin to move meaningful reconciliation forward. The Office of Indigenous Strategic Initiatives will be there to answer any questions participants might have about the ISP and the ISP Toolkit.
Register here
---
Anti-Racist Teaching Workshops
This workshop series is for UBC faculty, staff, and educators who wish to cultivate a teaching or facilitation practice that serves as a form of solidarity, and is premised upon research and popular education pedagogy in the areas of anti-racism, equity, and inclusion.
Series start date: May 10, 2021.
For a list of all events please visit: https://events.ctlt.ubc.ca/event-category/anti-racist-teaching-workshops/
---
Where are all the Black People? Series
The purpose of this speaker series is to foreground Black voices in fields where Blackness is particularly underrepresented, and provide actionable and measurable strategies to UBC to increase Black representation and Black excellence in these fields. Speakers from Canada and abroad will be highlighted.
For a list of all events, with descriptions, please visit: https://events.ubc.ca/where-are-all-the-black-people/
---
Equity and Inclusion Office – Through the Lens Series
Through the Lens is a series of interactive workshops designed to enhance UBC staff, faculty and community members' understanding of diversity, while offering practical ideas for creating a more equitable and inclusive campus.
For a list of all events please visit: https://equity.ubc.ca/through-the-lens/
---
Anti-Racism Events
For a list of all events please visit: https://antiracism.ubc.ca/events/