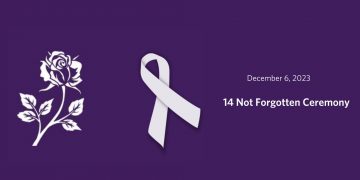 Join UBC students, staff and faculty on December 6 at 11 am for the Annual 14 Not Forgotten Ceremony to remember the 14 women who lost their lives and stand against violence towards women. This event is organized by the Engineering Undergraduate Society and the Faculty of Applied Science EDI.I Office. It will be held at the Kaiser Atrium.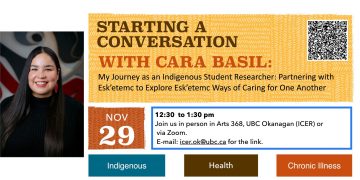 Join a conversation with graduate student Cara Basil from Secwepemcúĺecw on Nov 29t at 12:30 Pm. She will share her research journey, collaborating with Esk'etemc, and discuss the next steps for research on palliative care for Indigenous Peoples.
Join the next gathering of the EDI Action Network on Dec 4th to explore how you can build a culture of accessibility in your unit. Members of the UBC Accessibility Committee and Disability Affinity Group will share their perspectives on promising accessibility initiatives and practices at UBC and the complex intersectionality between disability and other forms of identity, including, but not limited to, gender, race and sexual orientation.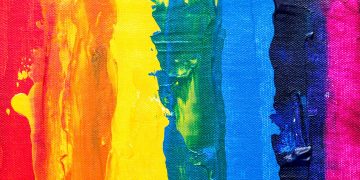 Celebrate and amplify Two-Spirit pride by witnessing the unveiling of the Coast Salish Two-Spirit Pride mosaic on Tuesday, November 14th, 11:30am – 1:30pm at Sty-Wet-Tan Great Hall, First Nations Longhouse.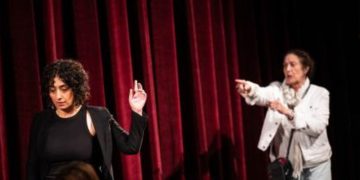 Conflict Theatre offers faculty and staff the opportunity to explore and embrace conflict in the workplace using the tools of theatre. Learn more and register for one of the upcoming sessions.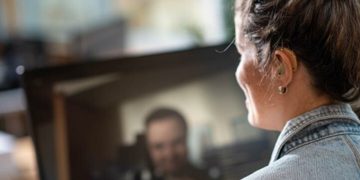 Join the UBC Centre for Workplace Accessibility in recognizing the UN International Day of Persons with Disabilities (December 3) by participating in a series of online webinars to enhance your disability inclusion literacy. The event series, running from November 27 to December 1, aims to raise awareness and promote inclusive practices in UBC workplaces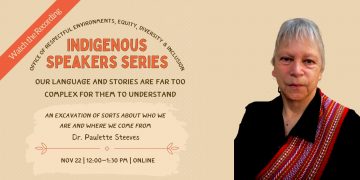 Watch the recording for a conversation with Dr. Paulette Steeves, author of the Indigenous Paleolithic of the Western Hemisphere. In this session, we learnt about the rewriting of Indigenous histories, framed through Indigenous knowledge.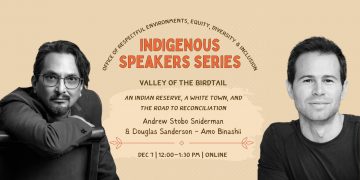 Join us virtually on Thursday, Dec 7th, 2023 from 12:00 pm – 1:30 pm (PST), for a conversation with Andrew Sniderman and Douglas Sanderson (Amo Binashii), authors of Valley of the Birdtail. In this Indigenous Speakers Series session, we will learn about what it means to be Indigenous in Canada, what it means for all of us to be Canadians in a newly reformed Canada, if we choose to be on the road to reconciliation.
Watch the recording for a conversation with Chief Bill Wilson – Hemas KlaLeeLeeKla, who brought both truth and truthfulness about past and present contexts of Indigenous peoples' collective struggle to negotiate their legitimate and proper place in British Columbia and Canada.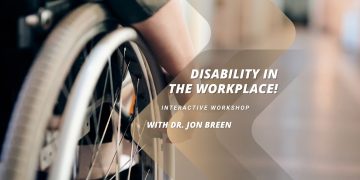 Are you ready to deepen your understanding of disability awareness and inclusion in the workplace? Join this interactive virtual workshop developed specifically for Faculty of Medicine faculty and staff members by postdoctoral fellow, Dr. Jon Breen.